Who are we?
Kingfisher Capital Partners is a family owned and operated investment advisory firm based in Melbourne, Australia.
We are devoted value investors, with our investment selection being based on fundamental market analysis. Our clients are classified as 'wholesale investors' under the Corporations Act.
Kingfisher is able to provide a range of investment, advisory, financial planning and stockbroking execution services to individuals, superannuation funds, trusts, investment companies and other entities.
We provide advice on portfolios comprising of direct equities, as well as, listed property, fixed interest and cash.
We believe wealth preservation and enhancement needs to be carefully planned as our clients wish to leave an enduring legacy for the next generation. Consideration is given to strategies, structures and legal devices to achieve our client's specific investment objectives as well as asset protection.
Kingfisher works effectively with accountants, solicitors and other trusted professionals to assist in planning and security.
Why the name 'Kingfisher'?
We admire the kingfisher's ability to survey and strike with precision - a behaviour exemplified by the world's most successful value investors.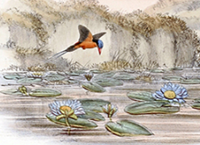 Administration Platform
Kingfisher uses Cavendish Administration Pty Ltd [a subsidiary of AMP] to maintain Praemium's V-WRAP, our preferred administration platform. We utilise the technology to promote convenience, efficiency, privacy and security.
Kingfisher does not hold client funds or operate a trust account. Clients' funds are held in their own name.